Its that time of the year when beachy-waves, messy hair and bed-head hairstyles take the front seat and it's almost a sin not to rock these uber hot styles in summer. And that's onething I love about summers, I can totally skip the styling and look like am ever ready to hit the beach. *-*
One of the main reasons am very happy rocking Bed-head hair (see
here
and
here
) is I can let my hair be all natural.
Lot
of styling and products in hair often make it dry and limp and for a change letting the hair behave the way it wants is good too. No?
Much Love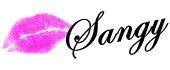 Use code
193135909
during registration
to get an instant 5$ coupon to shop!!